Establishment and objectives
The Economic and Social Research Foundation (ESRF) is an independent policy research think tank established in Tanzania for the purposes of undertaking research and providing evidence to support economic management process in Tanzania.
The Foundation was established in October 1992 and effectively started its operations in 1994 at the peak of economic reforms and transition from a socialist to market economy – a transition which was characterized by greater demands for scientific evidence in policy process. Similar to the case of other think tanks established around the same period in the African continent, the formation of ESRF was motivated by a prevailing concern that Africa's policy making process (back then) wasn't adequately informed by evidence.
Within the country, the formation of ESRF was based on the assumption that there was need and demand for an improved understanding of policy options and development management issues, and that the capacity for this was lacking in the Tanzania civil service. The ESRF was therefore tasked with undertaking the triple objectives of policy and economic management research, capacity development in different sectors on policy and socio-economic matters, and knowledge management. For a period of twenty-nine (29) years since its establishment, the ESRF is one of the leading policy think tanks in Tanzania.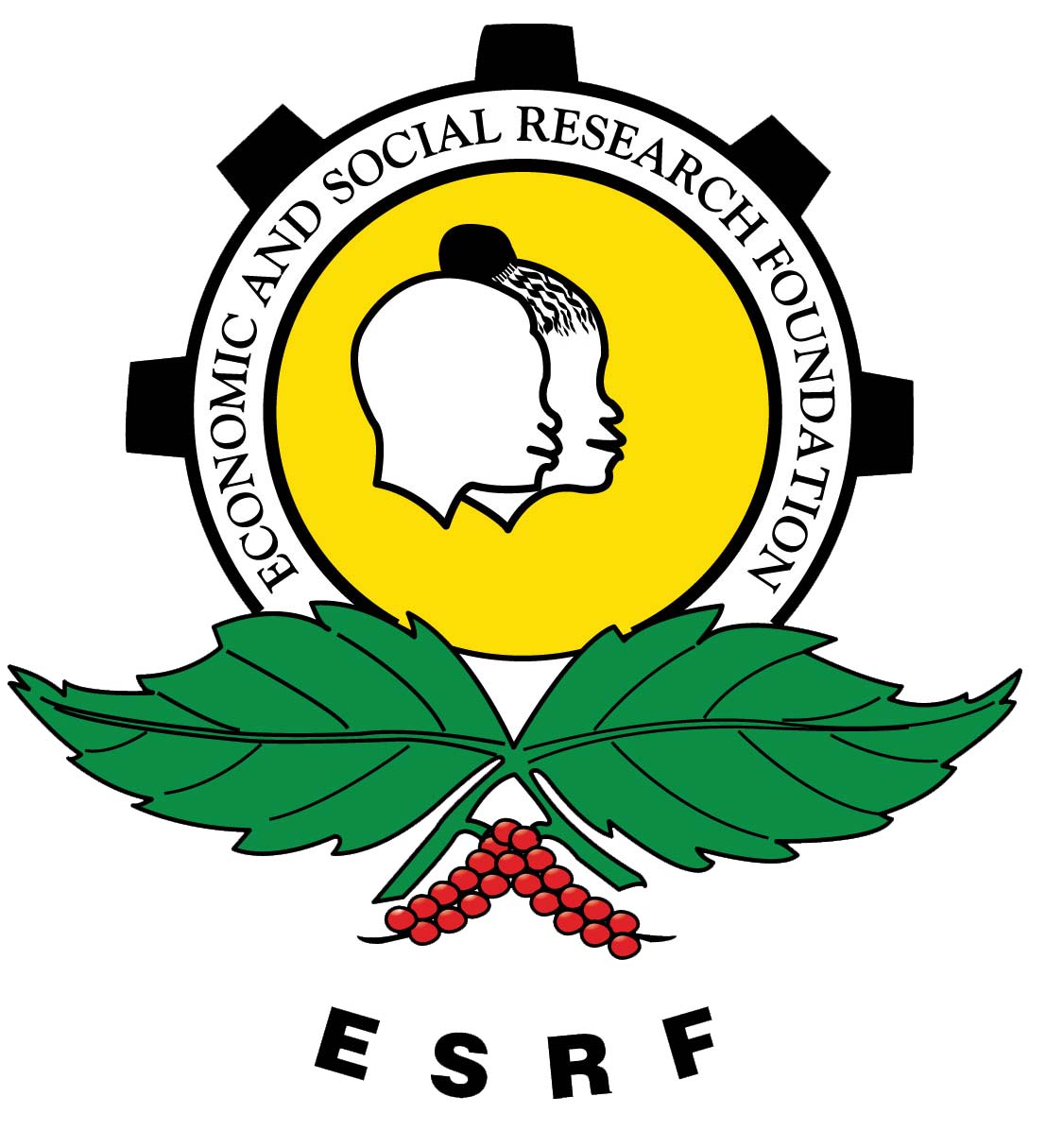 Since its establishment, the ESRF has sustained its reputation as a trusted policy research institute in Tanzania and around Eastern Africa region. Some of the engagements illustrating the work and impact of ESRF include its active involvement in the formulation of National Development Vision 2025 in 1998-2000 and its review after ten years of its implementation, the ESRF has also been an active player in the formulation of First and Second Years Development Plans i.e. FYDP I (2011/12 – 2015/16 "Unleashing Tanzania's Latent Growth Potentials") and FYDP II (2015/16 – 2020/21 "Nurturing Industrialization for Economic Transformation and Human Development".
Some few research work implemented at sector level include conducting a review of National Micro Finance Policy (2000) for Ministry of Finance, National Environmental Policy (1997) for Vice President's Office and National Energy Policy (2003) for Ministry of Energy and Minerals, National Youth Policy Review (2007) for Ministry of Labor, Employment and Youth Development, National Tourism Policy Review (1999) for Ministry of Natural Resources and Tourism. In the near past, the Foundation has also been at the fore front in supporting policy development processes at local government levels. In this regard, in the period of 2017 and 2020 the Foundation has supported 25 regions of Tanzania Mainland in identifying priority investment opportunities in their regions and preparation of Regional Investment Guides.
Advancing knowledge to serve the public, the government, CSOs, and the private sector through sound policy research, capacity development initiatives, and advocating good development management practices.
To become a national and regional centre of excellence in policy research and capacity development for policy analysis and development management.
The Board of Trustees is the apex organ mandated at providing overall institutional leadership, tackling bigger issues (providing direction, mission, staffing issues etc.) and general governance related matters. The board is composed of ten (10) members distributed across four categories namely public sector, private sector, civil society and academia. The list and profiles of current members of the board of trustees is provided on board members section within about us menu. Day to day operations are managed by the Executive Director and heads of departments who constitutes "management" of the institution.
The Foundation is led by a small management team and staff who undertakes research, coordination and quality control. To provide for wide variety of expertise and quality services, the Foundation engages a network of local and international experts on consultancy basis. The list of current staff is indicated on staff sub section within about us menu. Activities of the Foundation are executed within six departments namely (a) Department of Strategic Research and Publications, (b) Department of Commissioned, (c) Department of Knowledge Management and Innovation, (d) Department of Governance and Capacity Development, (e) Department of Finance and (f) Department of Human Resources and Administration. The function and description of activities of four program departments is depicted on "Core Programmes" section of the website.