In implementing the Agricultural Sector Development Programme Phase Two (ASDP ll), the Economic and Social Research Foundation in collaboration with the Ministry of Agriculture conducted online trainings to Extension Officers on how to use electronic system – Mobile Kilimo Platform which provides extension and marketing services to farmers, fishermen and various stakeholders in the agricultural sector by using mobile phones.
The Mobile Kilimo Platform links farmers, fishermen and extension officers via text messaging for receiving expert information, asking questions as well as enabling farmers, pastoralists, fishermen and various traders to advertise their businesses and find markets for their products.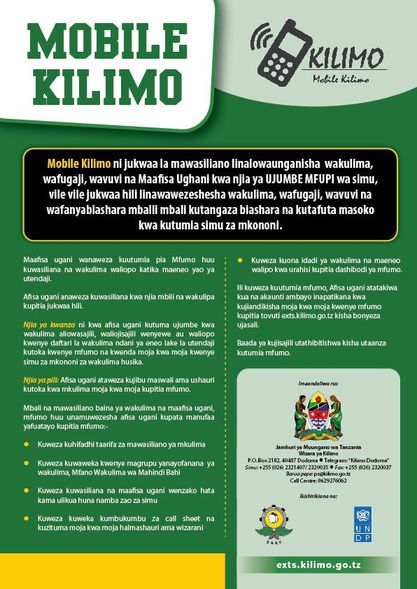 The virtual trainings aimed at addressing the existing challenges of shortage of extension officers, accessing markets for agricultural products, livestock as well as linking farmers, pastoralists, fishermen and other stakeholders in the whole agricultural sector value chain.
The extension officers were taught; on how to answer questions or provide advice from individual farmers through the system, contact their fellow extension officers even if they don't have their mobile phone numbers, easily see the number of farmers and their locations through dashboard.
Furthermore, extension officers were taught how to send messages to farmers who are registered on the farmers' register within their operating areas from the system and messages go directly to their mobile phones.
On marketing services, extension officers were taught on how to link sellers of agricultural, livestock and fisheries products with the buyers and buyers to seek for products from farmers, livestock keepers etc
Mobile Kilimo Platform was launched in May 19th, 2020 in Dodoma and piloted in three Districts of Chmwino, Bahi and Kongwa, whereby each district selected two wards for the implementation of the exercise.