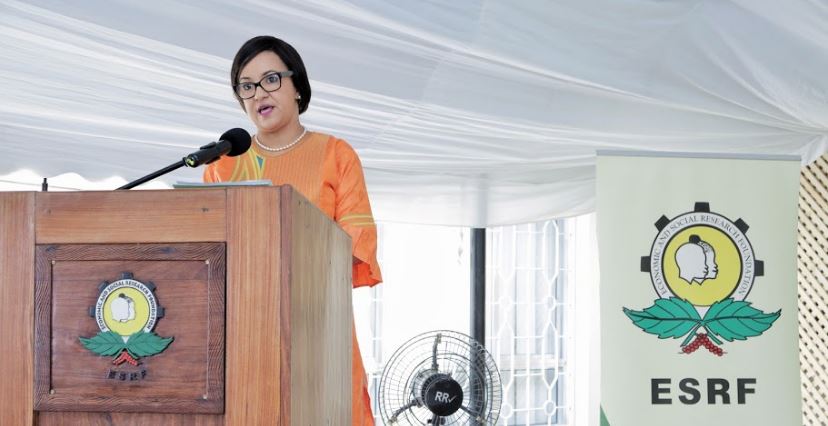 In recognizing the contribution of the Agriculture sector in Tanzanian economy and the fact that more than 70 percent of Tanzanian population depend largely on agricultural activities, the Economic and Social Research Foundation (ESRF) organized a workshop on Agribusiness to share some opportunities embedded in Agriculture, Livestock and Fishery at ESRF grounds.
The well attended workshop was officiated by Dr. Tausi Kida the ESRF's Executive Director. The participants to the workshop were drawn from all walks of life who in one way or another engage themselves in agriculture, livestock, fishery and many who engaged in agricultural chain value from different localities of the City of Dar es Salaam and nearby regions.
In her welcoming remarks, Mrs. Margareth Nzuki- the Head of Knowledge Management and Innovation Department informed the participants that ESRF with the support from UNDP conducted a number of researches to identify opportunities in various sectors of development. Of recent ESRF in collaboration with the Regional authorities with the financial support from UNDP conducted studies to identify investment opportunities in all Tanzanian regions.
So far ESRF has managed to prepare 15 Regional Investment Guides and for the remaining regions are at different stages of implementation. Mrs. Nzuki further said, that the workshop aimed at sharing opportunities which are embedded in agriculture, fishery, livestock and sharing experiences from various stakeholders who conducted different studies in agriculture, livestock and fisheries. In her key note speech Dr. Tausi Mbaga Kida the Executive Director of ESRF informed the participants that the advancement of technology has increased opportunities in different sectors including agriculture, livestock and fishery whereas with technology farmers, fishermen livestock keepers and those involved in these sectors value chain can maximize profits.
Dr. Kida said that in the past years farmers were largely depending on rainfall, but due to technologies they can cultivate all year long using new methods of farming. She further said that technology has assisted farmers to produce abundantly and quality products in a small piece of land.The workshop on Agribusiness was featured by eleven presentations from experts in agriculture, fishing, livestock keeping, banking, entrepreneurship and technologies. In agriculture subject areas included; green house technology, Hydroponic fodder, Hydroponic vegetable.
Other areas included; fish farming by using re-circulating Aquaculture System, beekeeping and Azolla as animal feed and Bio-fertilizer, sharing experiences from stakeholders who practice fish farming in various techniques. Participants were invited to ask questions and were comprehensively answered by experts.